Online shopping is very popular in India and a huge number of people prefer to buy online everything from clothes, groceries to electronics items. Before a few years ago, Indian users were worried about online shopping due to lack of trust, product quality and potential thefts etc.

However, that has been totally changed now and during the festive season, online sites made more sales in comparison to retail stores. Users can use online sites to shop for high-quality new or used products at the best possible costs. Even if you want to acquire antiques or expensive objects. Web portals can recommend the best products at reasonable prices.
If you don't like dealing with crowds or having to deal with their problems, online shopping is an ideal option for you. When it comes to locating the perfect parking spot, browsing for a product in less time, and more, a crowded marketplace presents numerous challenges. Even shopping centres are so congested these days that finding a product is tough, especially if you have children with you.
Best Online Shopping Sites in India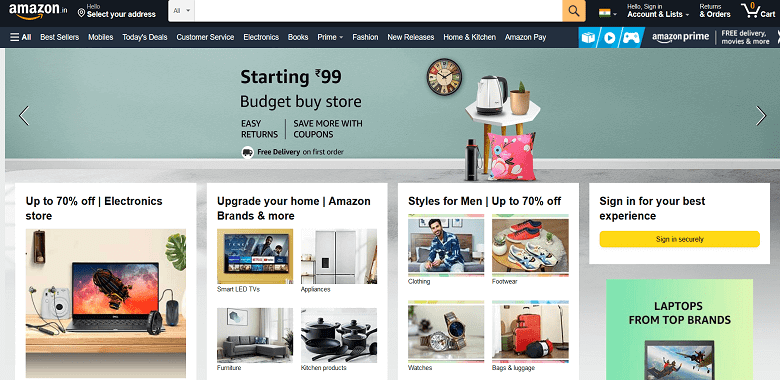 Amazon is one of India's largest and most successful online shopping places and Fashion, electronics, cell phones, laptops, accessories, infant care, and more categories were added in a short period of time. You may shop for a wide variety of things on this website. The online retailer's India marketplace, Amazon.in, was founded in 2013.
The average monthly visitor is 324.18 million. Amazon provides consumers with a Prime subscription in order to provide them with extra benefits. For a year, Amazon Prime costs Rs. 999, and for three months, it costs Rs. 329.
Statistics:
Online Monthly Visitors: 100,000,000+
Alexa Rank in India: 3
App Downloads: 100,000,000+
Delivery Details:
Delivery charges of Rs. 40 For Non-prime users on orders under 499.
Free Delivery on all Amazon Fulfilled products for Prime Users.
Delivery charges of Rs. 59 on Pantry products for non-prime users.
Delivery charges of Rs. 30 on Pantry products for Prime users.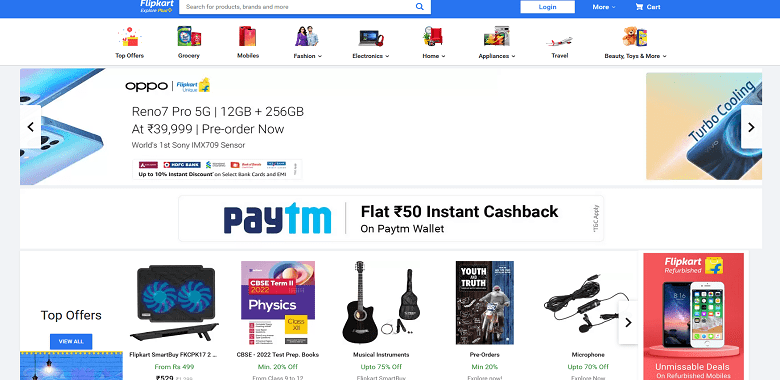 Flipkart is another important Indian online shopping portal that launched with a small budget in 2014 and has increased in popularity and revenue over time.
Flipkart, like Amazon, is a trustworthy site for shopping for a variety of products. This site offers a wide range of things, including mobile accessories, gadgets, clothes, electronics, household appliances, and more. The fantastic thing about Flipkart is that it has more products than a mall. The company has a delivery network that spans India. On average, 194.60 million people visit the website each month.
Statistics:
Online Monthly Visitors: 194.60M
Alexa Rank in India: 6
App Downloads: 100,000,000+
Delivery Details:
For order amount less than Rs. 500, Rs. 40 per item.
Free Delivery of Flipkart Assured products for Plus members.
The minimum Order for Flipkart Supermart is Rs. 650 with Delivery charges of Rs. 50.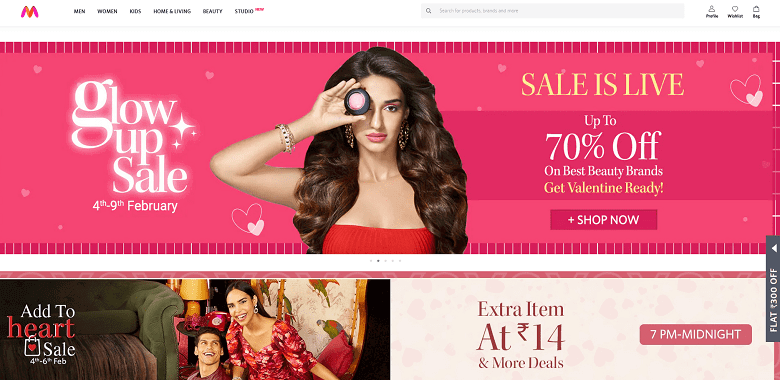 Myntra is an Indian online shopping portal that competes directly with other well-known clothes and retail websites. It contains a wide range of categories and provides a variety of options to pick from. Myntra has the most up-to-date and attractive apparel and accessories. Ethnic, traditional, contemporary, modern, and various styles of clothing are all available under one roof.
Myntra is billed as having the largest selection of fashion merchandise on any online platform. Fashion items are sold on the e-commerce website. Myntra has roughly 48.66 million visitors each month on average. Top fashion and lifestyle brands such as Nike, Reebok, Puma, Adidas, Lee, and others have partnered with the website. Customers can shop both on the website and on their mobile devices. To enhance customer engagement, the Flipkart-owned firm recently launched Myntra Insider, a reward club. Insider points can be used for discounts and other incentives.
Statistics:
Online Monthly Visitors: 48.66M
Alexa Rank in India: 61
App Downloads: 50,000,000+
Delivery Details:
Free Delivery for New users on First order.
Delivery charges of Rs. 99 for order amount below Rs. 799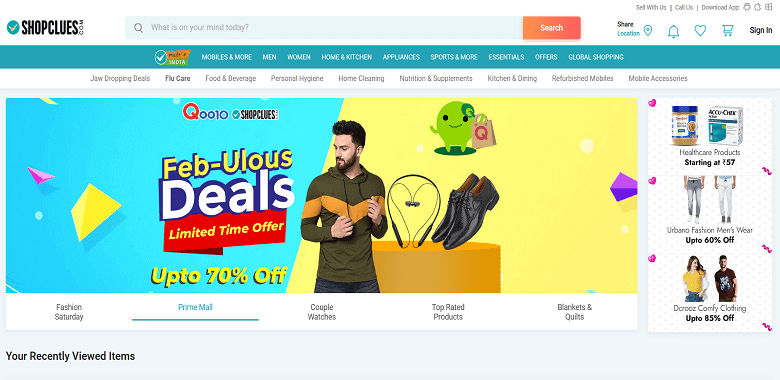 Shopclues is a well-known site for its amazing discounts and offers on products. Shopclues offers heavily discounted mobile phones, computers, fashion apparel, electronics, shoes, food and household items, and appliances. It is launched in the year 2011 and you may buy gadgets, home appliances, apparel, and personal care items. The website was developed to provide the best deals to Indians.
Shopclues is recognized for having the most competitive prices in the market. "Shopclues Surety" is a quality assurance mechanism built within the online marketplace. Up to five credentials are available with Shopclues promise.
Statistics:
Online Monthly Visitors: 5.47M
Alexa Rank in India: 915
Delivery Details
The delivery charges vary from product to product.
Free Delivery is available on a large range of products across all categories.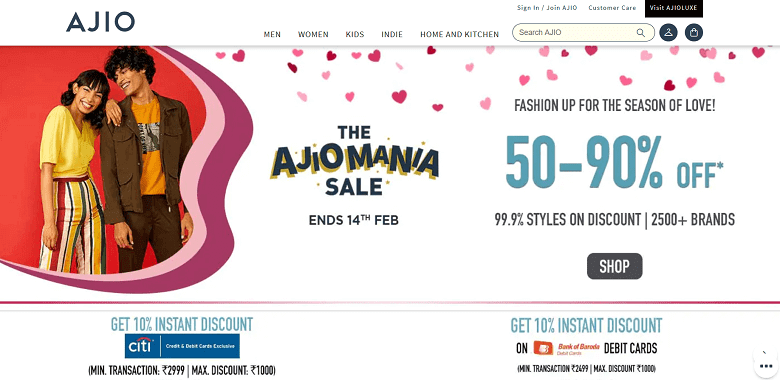 AJIO has a large selection of owned, branded, and hand-selected collections from India and throughout the world. AJIO Own is AJIO's trendy in-house label, with maternity apparel, a tweens line, and activewear, as well as a varied range of clothes, footwear, and accessories. The brand has an exclusive Indian selection with things from artists and merchants all over the world.
Reliance Industries launched Ajio, an online fashion portal, in 2016. The largest collection of women's private labels may be found at the online store. All types of clothing are available, including national, international, and Indian styles.

The online store features over 200 national and international brands, including clothing, shoes, accessories, and jewellery. Ajio distributes a wide range of electronic products, including smartphones and accessories. With an average monthly visitorship of 25.77 million, Ajio is placed 5th in our rating of the best shopping sites in India.
Statistics:
Online Monthly Visitors: 25.77M
Alexa Rank in India: 134
App Downloads: 10,000,000+
Delivery Details
Free shipping of orders with a purchase amount of Rs. 999 & above
Conclusion
The greatest online shopping websites in India are given here. We can also group products by category, such as buying large appliances, for which Amazon is clearly the best option.
Many more online shopping sites have already emerged, with many more on the way to give customers even more choices. The advancement is also technological, with the goal of improving the user's online shopping experience.