Are you looking to invest in startups India?
Today, India has the world's seventh biggest economy (US$2.4 trillion GDP), and the Indian startup ecosystem is the third largest, behind only the US and China. With a market capitalization of 101% of GDP, India ranks eighth in the world. According to some, the Indian startup ecosystem has matured. With over 3,000 companies established yearly, India seems to be a hotbed of innovation and development. Millennials account for around 32% of India's population, driving this incredible development narrative in both the broader economy and the early-stage ecosystem. A startup has no fixed definition; it is often when a firm works to create an innovative product or expand its services to address critical challenges and develop its capital. For example, every firm usually begins with a modest startup, such as Uber, which created an app that connects riders and drivers.
The difference between a standard/traditional firm and a startup is not the service or product, though these are essential factors. It is the way they operate. Organic growth and initiatives allow a typical firm to expand linearly. It implies that a conventional firm is usually successful from the start. On the other hand, a startup raises swiftly with the support of massive cash and resources, which only ensures profitability a few years into existence.
It is obvious that not all startups are successful and significant, and this is dependent on the concept and how it executes. Furthermore, such ideas address the business's concerns or target audience.
Why do startups need capital?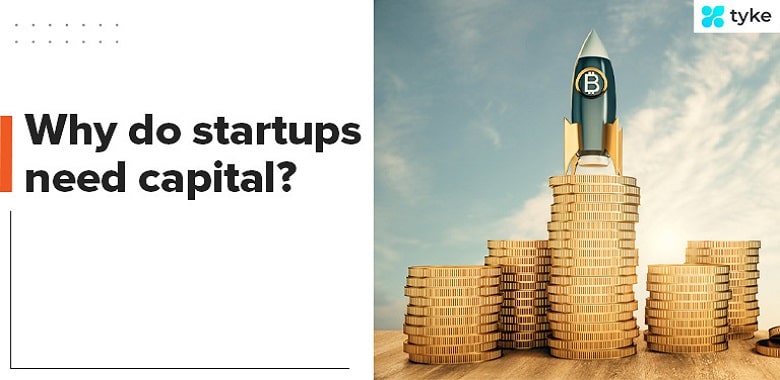 Startups strive for hyper-growth, which requires a large amount of cash and resources. These are their only options; in most instances, the funding originates from outside sources.
External sources relate to the capital utilized to operate the firm, which is not merely the personal money invested by the entrepreneur. These grants help people and companies grow.
An investor believes in a firm and offers money and other resources to help the creators succeed. Stocks and interest are given to external investors (in the case of loans). Investors benefit from it.
Key Market Forces
The Indian startup ecosystem is thriving due to the Government's Startup India Initiative's monetary and non-monetary assistance and the availability of talented Information Technology (IT) workers. Here, startups are cloud service users (Ola Cabs, Bigbasket) and cloud service providers (such as Practo and Freshdesk). As a result, the growing number of startups is boosting the provision and uptake of cloud services.
Digitization in India allows Artificial Intelligence (AI) and Virtual Reality (VR) corporate processes (VR). Cloud computing is the primary driver enabling businesses to store, manage, and analyze the vast amounts of data necessary for AI applications.
The intelligent appliance and wearables business is expanding. Cloud computing is the primary technique for communicating and storing data in such gadgets.
To that end, we've compiled some resources to help you learn about best startup investing platforms.
The following are the actions you must take to invest in startups India:
To begin, you must contact an investment or financial counselor to discuss the indirect investment. They will assist you in sorting the list and profiles of all the various funds wanting to raise funds at the time of the study.
Before you decide to invest in startups India, consider the following factors:
Classification of assets
Returns on investment
The fund's primary objective (specific sector, theme, market, etc.)
Waiting period
The fund manager's credentials
Performance in the past
Following that, you may schedule a conversation with the company's fund representative to settle any issues and proceed with the investment. Before you give your money to the fund, documentation is usually required.
Things to Consider Before Investing in Startups in India
Before investing in the best startup investing platforms, keep the following points in mind. Here are the primary considerations you should make before investing your money.
Concept –
A startup is an individual's idea about a huge issue; it becomes a reality with a tiny sample texting to verify the product. Before you invest in startups India, it is critical to comprehend the concept from the standpoint of the audience and the future.
Founders –
It is critical to maintaining contact with the founder since his vision drives the implementation. Because investing in a company is all about investing in an idea, ensure you have a thorough discussion with the entrepreneur.
One of the essential criteria is the market size and target audience. When investing in a company, ensure it has a high potential for growth in the future. A startup should always be open to more than a single location or a specific geographic region. A startup's operations expand on a vast scale to establish market dominance.
Competitors –
For startups, it's about scaling and becoming the dominant player in the future market. Examining the product's rivals in the market is critical, and you can quickly determine if the firm you are investing in has superior tactics to accomplish what it intends.
Top startup investment platforms:
The top 5 best startup investing platforms are shown below.
1. LetsVenture:
Shanti Mohan and Sanjay Jha established LetsVenture, an early and growth-stage startup investment platform, in 2013. LetsVenture is a transparent medium for investors and companies searching for an angel investor or seed investment platform. LetsVenture claims its startup investment platform has assisted more than 220 businesses in raising almost Rs. 600 crores in the past six years. It has the backing of industry titans like Ratan Tata, Nanadan Nilekani, Mohandas Pai, Anupam Mittal, Sharad Sharma, and Rishad Premji, as well as Accel and Chiratae Ventures.
2. India AngelList:
AngelList India is an angel investor network in India that accredited investors use to invest in startups India. Investors searching for easy tools and infrastructure to assist them in making better investment choices may utilize this startup investment platform to invest in startups. To support with AngelList India, you must be an 'Eligible Angel Investor.'
3. WeFounderCircle:
WeFounderCircle is one of India's leading angel investment networks. It is a network of experienced entrepreneurs and angel investors who assist early-stage firms in raising financing. WeFounderCircle helps early-stage entrepreneurs grow seed investments from $100,000 to $150,000. It is one of the top angel investment platforms, assisting businesses in raising funding and worldwide networking and company growth.
4. Seedfund:
For those seeking a startup investment platform, Seedfund is an attractive choice. Seedfund has made early-stage investments in various industries, including e-commerce, technology, education, healthcare, and rural marketing.
5. Network of Angel Investors:
Angel Investment Network is a great place to start if you want to invest in a startup platform. It's also an excellent startup investment platform for startups to pitch their business idea and get capital methodically. The Angel Investment Network connects the company with possible investors and assists the business in raising financing.
Bottom Line
The Indian startup ecosystem is altering our way of life. The ideas and goods are changing our interactions with the rest of the globe. The possibilities have always been boundless, and the risks individuals are taking today seem limitless. Building the proper network in the startup sector may propel your company to the next level. Invest in startups India Tyke is one network where investors, entrepreneurs, mentors, and industry experts come together to make meaningful relationships with individuals with diverse business interests. We hope our guide will help you if you are looking for how to invest in startups in India.