We all love to shop online! because shopping for online beauty products is cheaper, faster, and more convenient from the comfort of your own home. With just a few clicks, your favorite lip gloss or mascara is on its way to your house! There are so many new beauty e-tailers that it's difficult to know where to begin. Before placing an order, it is necessary to examine the online shopping site on various parameters. Good brand selection, product quality, pricing, availability of worldwide shipping, customs & taxes for international shipping, shipping cost, refund policy, customer service, payment security, and so on are some of the characteristics.
Customers have a plethora of options when it comes to BB creams, perfumes, cosmetic tools, and lipsticks from the greatest online beauty businesses. In this digitalized age, it is easier to shop online than it is to look for your preferred foundation shades in local stores. Furthermore, online beauty stores offer a diverse selection of products to suit everyone's preferences and needs.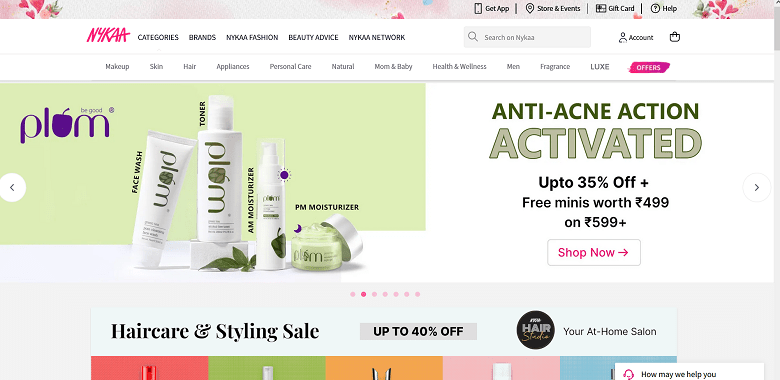 Nykaa is a high-end online shopping site that is dedicated to meeting all of your beauty products requirements. They have over 200 brands and more than 2000 products for men and women, including cosmetics, bath and body treatments, beauty accessories, and luxury items. In every manner, their items are genuine and authentic.
Nykaa sells cosmetics, skincare items, nail care, fragrances, and beauty tools like hair straighteners, hair and makeup brushes, curlers, face sponges, and bath accessories. Maybelline, Loreal, Lakme, Neutrogena, Vichy, Calvin Klein, Davidoff, Braun, and many other high-end brands are available on Nykaa.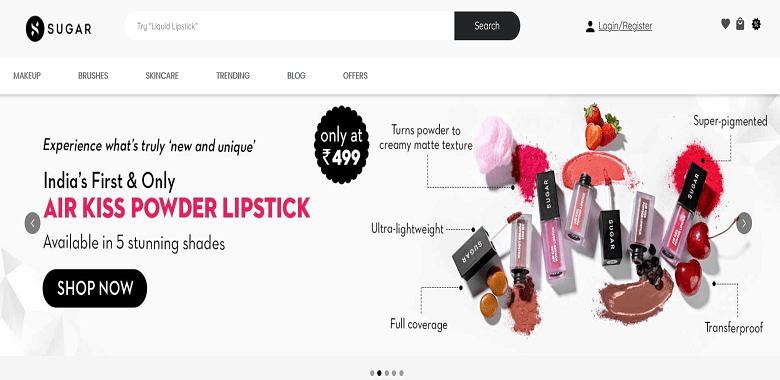 Sugar Cosmetics Make Me Up is a store where you may browse various types of makeup without having to touch them. It is the ideal location for shopping for the top beauty items in India. This website sells cosmetics for the lips, eyes, face, and nails. Choose from a wide range of eyeshadow, blush, lipstick, brows, and other cosmetics. Choose hues and styles that complement your features.
The brand ensures that delivery is both contactless and cashless. Sugar cosmetics hold clearance sales at the conclusion of each season and provide complementary products to all customers. Limited-edition goods can be ordered and delivered across India in 7-10 days. Check out their featured selection, which is priced under Rs. 799 and also 50% off sale to save more money on shopping for makeup products.
Purplle is the most popular online buying platform for cosmetics. As it is finest to fulfill all of your makeup shopping requirements. It can serve as your personal beauty assistant, allowing you to keep up with the latest trends and products. Find the best products to achieve soft, smooth skin and strong, healthy hair. It's an internet store where you can find everything you need to achieve flawless skin and hair.
Face washes, toners, balms, creams, powders, and other everyday necessities are available at discounted costs on the site. Purplle's Try On function allows you to try on over 1000 colors from the comfort of your own home. For you, the brand has a separate section with top trending products that are on sale. They are having 100% secure payment methods and help you find your perfect match for your type of skin.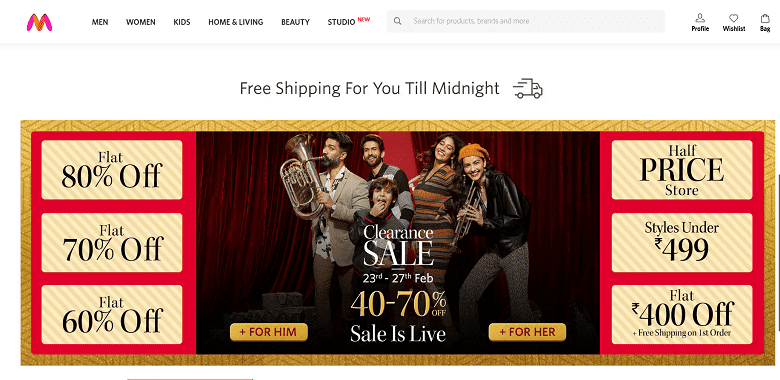 Myntra is your one-stop store for everything fashion and leisure. It is India's leading e-commerce retailer for fashion and lifestyle products, aims to provide shoppers across the country with a hassle-free and enjoyable shopping experience by offering the widest range of brands and goods on its website. The organization is making a deliberate effort to bring the power of fashion to shoppers by offering a range of the latest and trendiest products available in the country.
Makeup and skincare products are provided, as well as traditional and unusual jewelry, bright and attractive belts, shoes, scarves, and perfumes. There's also a nice selection of sunglasses. Puma, Levis, Dressberry, Ray-Ban, Lee Cooper, and many more are among the brands available in the store.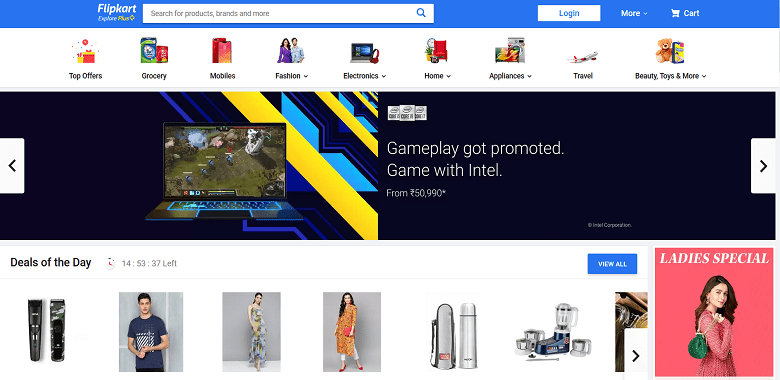 Flipkart was founded in 2007 with the purpose to provide all types of products to anybody with access to the internet. They now provide services and products in a wide range of categories, including movies, music, games, mobile phones, cameras, computers, healthcare, personal care products, home appliances and electronics, stationery, perfumes, toys, apparel, and shoes, to name a few.
Flipkart is one of India's oldest and most dependable websites. It includes an online women's store where you may shop for the look you want—casual, stylish, or unique clothing and accessories to suit your needs. To complement your look, you can shop for cosmetics, bags, shoes, watches, perfumes, and sunglasses. Casio, Fossils, Lakme, L'oreal, Colorbar, Elizabeth, Burberry, and Philips are among the brands represented.
Conclusion
A mall is no longer a viable option for shopping. The Internet has risen to the fore as the modern world's epicenter. Do you want to go shopping even though it's raining? It's not a problem at all! Simply switch on your laptop and go to your favorite online cosmetic purchasing sites to begin shopping from the comfort of your own home!
Do you shop on the internet? Which online shopping site is your favorite? What makes that website so unique? Please tell us about it in the comments area below!